Stoptober – Stop Smoking Challenge
Posted by:
liamg
-
Posted on:
We're delighted to share that Stoptober is back this October with a new National Campaign designed to encourage and support smokers to quit for good. While smoking rates have declined in recent years, over 5 million people in England still smoke and it remains the single biggest cause of preventable illness and death. Since its inception in 2012, Stoptober has successfully helped 2.5 million smokers to make a quit attempt and has become a well-recognised annual event in the public health calendar.
Quit Smoking
Stopping smoking is one of the best things you will ever do for your health. Quitting is much easier when you get the right support and there are lots of options to choose from.
Even if you've tried before, maybe more than once, you can still succeed. What you've already learned will help you reach your goal of becoming an ex-smoker.
Why Quit?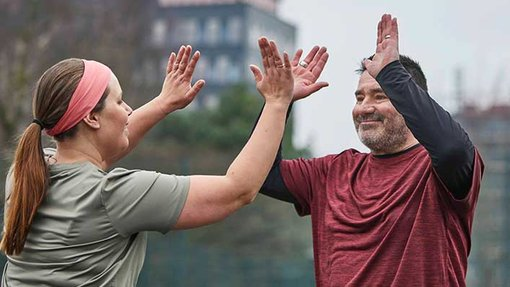 The earlier you quit smoking, the more you're likely to benefit.
But it's never too late – because quitting will improve your health whatever your age and no matter how long you have smoked.
Better physical health
Every time you smoke a cigarette, your body is flooded with thousands of chemicals, many of which are poisonous.
The day you stop, your body starts clearing itself of all those nasty toxins and the repair process begins.
Reduced risks of smoking-related diseases
Your longer-term risks of cancer, lung disease, heart disease and stroke. You will also be less likely to develop type 2 diabetes, bone disease including osteoporosis, eye disease and dementia.
Better mental health
You may think that smoking supports your mental wellbeing, and helps you to relax, deal with stress and anxiety, and cope with life's difficulties.
In fact, the opposite is true. Stopping smoking boosts mental health and wellbeing.
Ways to Quit
Many people try to quit smoking with willpower alone, but it's much easier to go smoke-free with the right help. There are lots of support options available, try a combination that works for you.
Nicotine vaping is substantially less harmful than smoking. It's also one of the most effective tools for quitting smoking.
Stop Smoking aids help you manage your nicotine cravings and other tobacco withdrawal symptoms.
Find local Stop Smoking Services
Get Free expert help from your local Stop Smoking Service & boost your chances of quitting by 3 times.
Vaping
Whilst Vaping is considered substantially less harmful to you than Smoking, it still has it's own risks. Vaping is only recommended to adult smokers to support them in quitting smoking. To find out more click on the links below:
Free NHS Quit Smoking App
If you want to stop smoking for good, the NHS Quit Smoking app is a 28 day programme that puts practical support, encouragement, and tailored clinical advice in the palm of your hand.